News
The Source News
05/13/2015
Geotechnologies, Inc.
Geotechnologies, Inc. is a geotechnical engineering firm committed to providing members of the building industry with quality engineering and testing services. The engineers, geologists, and technical staff provide services designed to help improve quality and schedule control for projects such as the Source.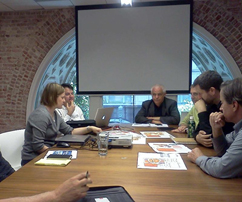 Meeting Updates for Ubiquitous Computing
On Thursday, employees of M+D Properties and NBBJ met to discuss the research conducted on Ubiquitous Computing and potential consultants to implement digital installations on the Source project. Meeting members also discussed possible cost-saving strategies.
Ubiquitous Computing (UC) is a digital information-sharing system that may be used in the Source's digital innovations. Possible uses for UC include security surveillance, climate control, and user-generated displays. NBBJ has scheduled interviews with Cisco and LG CNS as potential consultants. They also presented a set of cost-saving strategies related to parking, site, and pre-construction service.
Meeting Updates for CALTRAN's
M+D Properties, NBBJ, KPFF, KOA, and RJA met on Friday for the weekly consultant meeting regarding the Source project. They discussed a number of subjects, including the status on the updated project designs.
The representatives also discussed traffic and site issues. KOA updated the traffic count and proposed lane division. M+D Properties has requested a meeting with the City of Buena Park and civil engineers regarding traffic concerns around Melrose and Brenner Avenue. M+D Properties has also submitted the preliminary traffic designs for Caltrans' approval.