Overview
Redefining Hospitality: The Hotel at The Source
The Hotel at The Source is the third phase of The Source development. High-tech and beautifully designed, it is the definitive response to the emerging demand for smart, refined, and forward-thinking hospitality, combined with the modern conveniences discerning guests expect and deserve.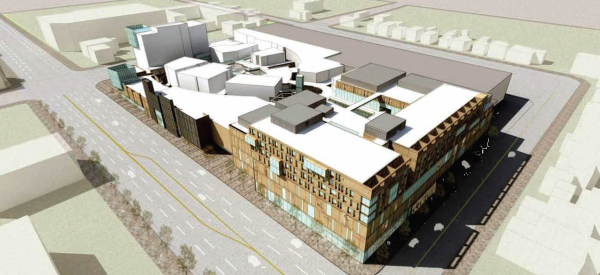 Project Description
The Hotel at The Source represents the vanguard of a new generation of hospitality: the upscale, full-service hotel that serves both business travelers and tourists alike, all while being able to draw on the resources of The Source Retail Center and The Source Office.
4 star, full-service hotel
Room count: 172 rooms on 4 floors
Building Area: Approximately 134,500 ft2 (approximately 12,500 m2) of dedicated
hotel space throughout 6 floors
Amenities: Lobby/reception, conference space, fitness center, rooftop pool, restaurant
The Architect: Gene Fong Associates
 As a practicing architect in Southern California for over thirty years, Gene Fong has had the opportunity to work on every kind of project – from highly personalized custom residences domestically to grand scale office towers in the Pacific Rim.
Mr. Fong has overseen the design of such impressive projects as the 33-story Arco Center Tower in Los Angeles, the Diamond Mall Shopping Center in Ujung Panandang, Indonesia, the Bukit Darmo golf clubhouse and resort hotel in Syurabaya, Indonesia, the Edgecliff Point 150-unit luxury condominiums in Cincinnati, and the 25-story Pan Pacific Plaza office tower in Honolulu.
Drawing from his many California projects, Mr. Fong is highly experienced in hotel and resort work, and has been responsible for such high profile projects as the 350-room Four Seasons Hotel in Beverly Hills.
Hotel Brand and Management Company
The Hotel at The Source received approval from Hilton Worldwide for a full-service Hilton Hotel in June 2015.
Ranked by Forbes as the 38th largest private company in the in the United States, Hilton Worldwide is the proprietor of 3,897 hotels with over 642,000 rooms in 91 countries. This hotel chain currently has ten popular brands including, Hilton Hotels & Resorts, Hilton's flagship 4-star, full-service brand. Hilton Hotels & Resorts has more than 550 properties across 83 countries and territories.
Interstate Hotels & Resorts is the leading U.S.-based global hotel management company. As of April 2015, Interstate managed 447 hotels, resorts, and conference centers throughout 12 countries around the world across all major hotel brands. Interstate is a wholly-owned subsidiary of a joint venture between Thayer Lodging and Jin Jiang Hotels. This joint venture is a true East meets West endeavor: Thayer Lodging brings established success in US hotel management and operations while Jin Jiang Hotels brings expertise in managing more than 1,500 hotels across China and strategic vertical and horizontal alliances. With 55 years of innovation, consistency, and success, Interstate is a trusted name in the hotel industry.
Hotel Floor Plans
Location: Buena Park & Orange County
The Source is located at the highly visible and second most trafficked intersection in North Orange County: Beach Boulevard and Orangethorpe Avenue, at the intersection of Interstate 5 and the 91 Freeway. It is positioned to serve the North Orange County market, as well as tourists from the many surrounding attractions.
Orange County is home to Disneyland Resort and Knott's Berry Farm theme parks, two of the nation's most popular recreational attractions. Additional activities in the county include beautiful beaches, numerous shopping venues, and the Anaheim Convention Center, together providing for a popular destination among international/domestic tourists and business travelers. Throughout periods of both economic growth and decline, these attractions continue to be major lures for 43 million visitors. The City of Buena Park is located in north Orange County and is home to the well-known section of Beach Boulevard where visitors have easy access to Knott's Berry Farm, Knotts' Soak City Water Park, Pirate's Dinner Adventure Show, and Medieval Times. Comfortable hospitality surrounds this Entertainment District with more than 25 restaurants and 15 hotels. All of these factors and more make Buena Park one of the best cities for investment and development right now.