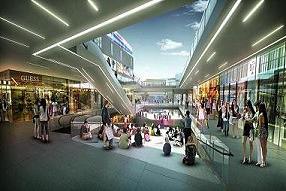 Location
The site for The Source is strategically located at the confluence of the 5 Freeway (which runs across the entire length of California, serving as the primary transportation route in the state) and the 91 Freeway (which is a key route to the Inland Empire). The site also is located along Beach Boulevard, which is one of Orange County's main arterial roads. This easily-accessible location is highly visible to millions of commuters each day. In addition, the site is located approximately one mile from a Metrolink station. Metrolink is a public transportation system serving most of the Los Angeles basin.
City of Buena Park
Buena Park is a well-established suburb located in Orange County, California. Orange County, which serves as the headquarters for many Fortune 1000 companies, enjoys one of the higher median household incomes in the nation. In addition, tourism is a vital aspect of the local economy. Orange County is home to numerous tourist attractions including Disneyland, Knott's Berry Farm, and Wild Rivers. Located off of the Pacific Coast of California, Orange County also has a number of beach resorts. Orange County attracts some 44,900,000 annual visits. This includes 24,700,000 day- visitors who comprise approximately 55% of the total. Of the remaining 20,200,000 overnight visitors, approximately 10,800,000 are estimated to stay in local area hotels. The majority of Orange County tourists are leisure-oriented visitors.
Market Analysis and Strategy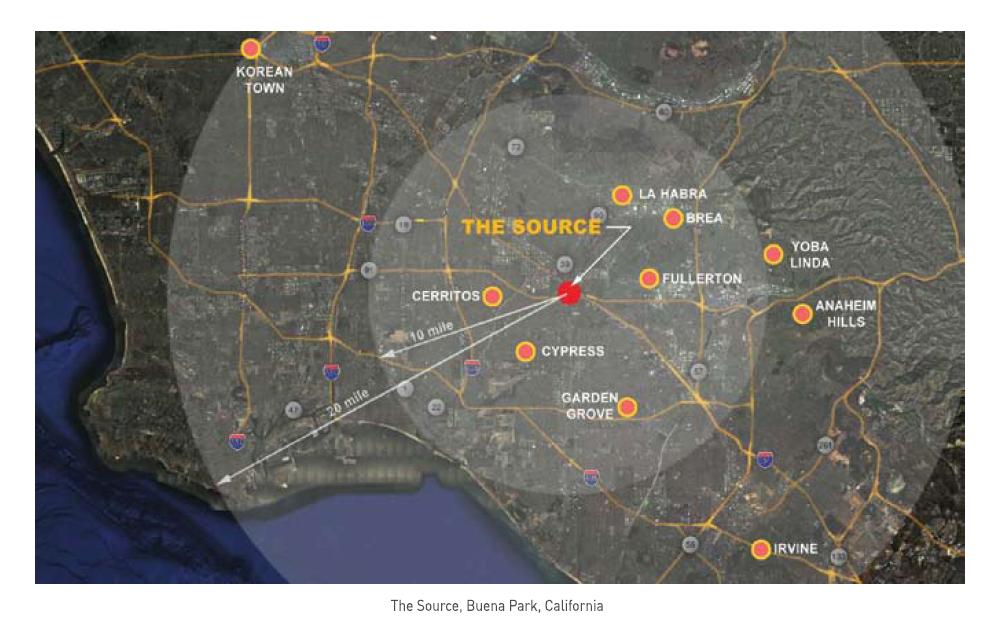 A market feasibility study prepared by Robert Charles Lesser Co. ("RCLCO") indicates that there will be a strong demand for an upscale lifestyle center in this area. Although the City of Buena Park largely consists of middle-class residents and Census Tract 1105 of the City of Buena Park is a targeted employment area under the EB-5 Program of the U.S. Citizenship and Immigration Services (USCIS), the RCLCO study shows that a significant percentage of households within a ten-mile radius of the City of Buena Park earn $100,000 or more per annum. Due to The Source's proximity to freeways and public transportation, the Developer is confident that it will be able to draw visitors from throughout Orange, Los Angeles, and Riverside Counties. Moreover, the RCLCO report indicates that a lifestyle center incorporating mid- to higher-end retail stores and restaurants currently is not available in the market area.
The Developer will design its new real estate developments according to the following strategies: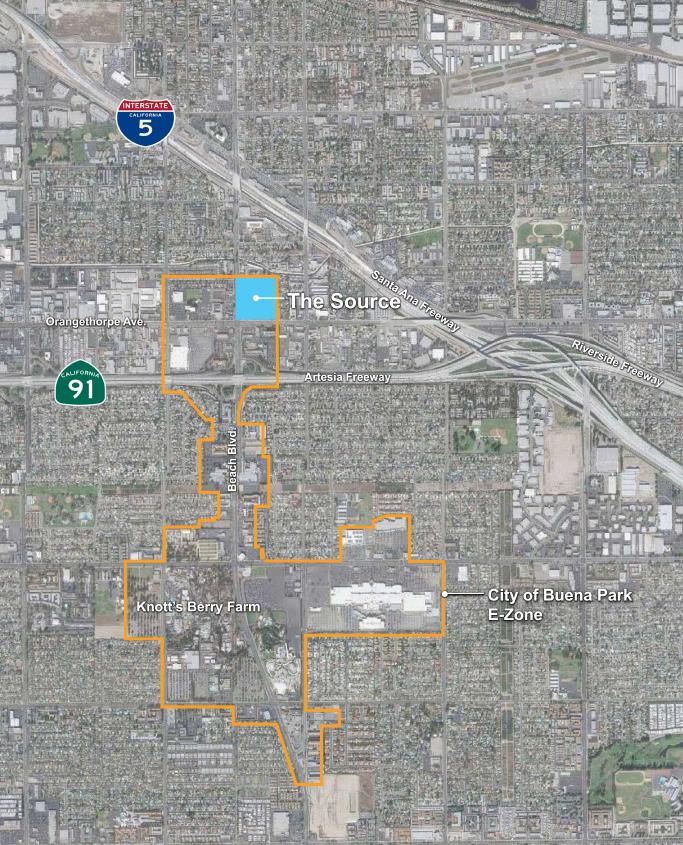 1. Demographic Niche Strategy
A substantial number of affluent Asians live in the area surrounding the site. Due to its strong relationship with a number of Asian-oriented retailers, the Developer will be able to take advantage of the demographic makeup of the area.
2. Upscale Niche Strategy
The RCLCO report indicates that a significant percentage of residents in the area surrounding The Source have substantial incomes. Nevertheless, there are no upscale retail options to serve such residents. The existing Buena Park Mall, located near The Source, has about 1.1 million square feet, with several major anchor stores, an open-air recreational center, and an 18-screen movie theater. This mall is not expected to offer serious competition to The Source because most of the anchor stores are budget stores, including Wal-Mart, Sears, Dress for Less, DSW, Shoe Warehouse, and Office Depot. By comparison, The Source will offer an upscale and unique shopping experience.
3. Mixed Use Strategy
The Source is a mixed-use development, with retail, office, hotel, and residential uses. Mixed-use projects are uniquely competitive due to their relatively fast absorption schedule and potential for superior project performance (for example, higher rents or prices, higher occupancy).
Development Objectives
Quality: Design a project that generates an iconic presence with a unique urban identity that serves as a landmark for the City of Buena Park, and create a world-class urban experience for residents and visitors by developing an aesthetically pleasing project with visual continuity through the careful and consistent application of high-quality building, landscape, and hardscape design and materials.
Community: Create the experience of a walkable downtown community that provides for safe and convenient pedestrian movement and public spaces for special events and minimizes the environmental impact of The Source through a development that encourages residents to work and shop in close proximity to their homes, minimizing their use of automobiles.
Jobs: Expand and enhance premier retail opportunities along the Entertainment Corridor to create new jobs, economic growth and stability for the region through the creation of a quality employment center.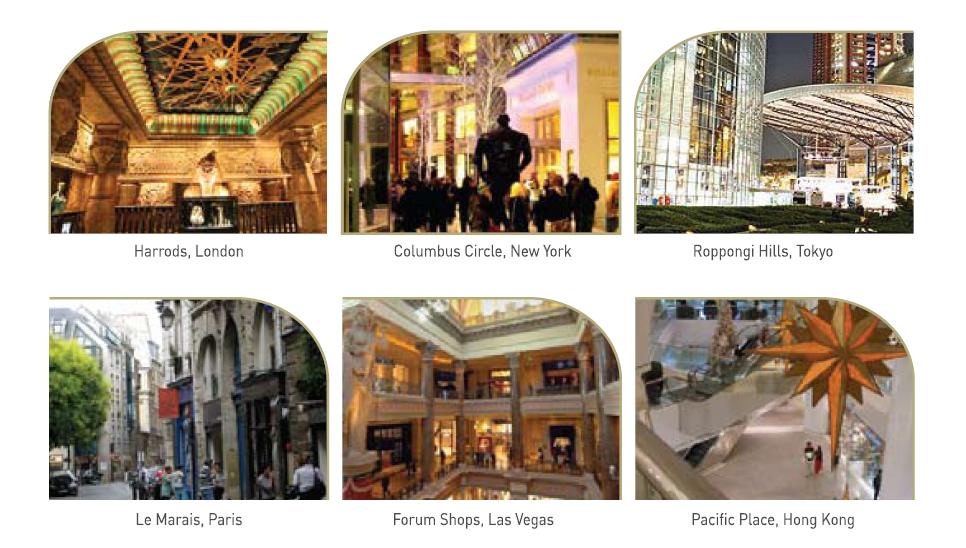 Design Specifications
Urban design and architecture objectives and standards will create the feel of a walkable downtown community, providing the conveniences and attractions of a city, interspersed with pedestrian paths and open spaces.
The Source will feature continuous retail facades with zero setback and narrow storefronts to create a dense shopping environment, rooftop gardens (private and/or public), outdoor eating areas, observation decks, water elements including interactive outdoor fountains, artwork, and a variety of other enhancements and entertainment-oriented activities.
A hierarchy of massing and architecture will emphasize main pedestrian entrances and enhanced gateway entries, with signage along Beach Boulevard to announce entry into the Entertainment Corridor and to frame views into the retail and pedestrian areas.
Economic Impact Analysis Report
The Economic Impact Analysis Report dated June 2012 prepared by Evans, Carroll, and Associates, Inc. estimated that a total of 3,519 new jobs would be created in connection with the retail center. Ten or more jobs will be allocated to each EB-5 investor-petitioner for the purpose of qualifying for U.S. Immigration benefits under the EB-5 program.