News
The Source Parking Structure Meeting
05/13/2015
M+D Properties and NBBJ Architects spent the past week working together with the parking contractors of Bomel Construction, Morley Builders, Largo Concrete, HB Parkco, and ARB Inc. to get the best estimate for the parking structure.
Bomel Construction was founded over 40 years ago by Bob Matranga and Mel Reznicek, Bomel Construction Company has grown to be one of the largest concrete contractors in the US. Bomel has successfully completed hundreds of concrete projects such as parking structures, office buildings, hotels, stadiums, bridges and more.

Morley Construction Company is one of the largest Southern California-based general contractors, specializing in Type I and Type II projects built primarily of reinforced concrete and steel. The company builds major civic structures; educational and research facilities; parking structures; commercial, retail, medical and healthcare buildings; and multifamily residential complexes.
Largo Concrete, Inc. is a full service concrete contractor. With over 500 hundred employees Largo Concrete has been in business for over 20 years. Largo Concrete has completed over 600 structural concrete projects, including parking structures, high-rise residential/mixed use structures, hotels, podiums, commercial buildings, hospitals and schools all throughout Northern and Southern California.


OCTA (Orange County Transportation Authority)
Representatives from M+D Properties, NBBJ, KPFF met with OCTA (Orange County Transportation Authority) on Wednesday to discuss plans for the bus stop near the Source property. OCTA has responded very favorably to the plans for the Source, and approved of moving the bus stop location nearer to the project's location. Attendees discussed designs and capacity, and will turn the site plans over to OCTA for review after revision.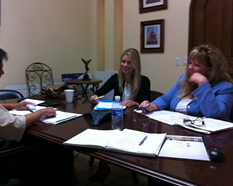 Leasing Meeting with Blatteis & Schnur
M+D properties met with Blatteis & Schnur on Tuesday July fifth to discuss leasing efforts. Attendees updated the Tenant Prospect Status Report, and are compiling the list for e-blast updates. The marketing team also reported that the advertising brochures will soon be revised and ready for distribution.
Macy's is expected to provide their comments on the leasing agreement latest changes by next week. JC Penney has expressed soft interest, and is currently reviewing additional information on the project before committing, while Blatteis & Schnur is pursuing Nordstrom and Dillard's.