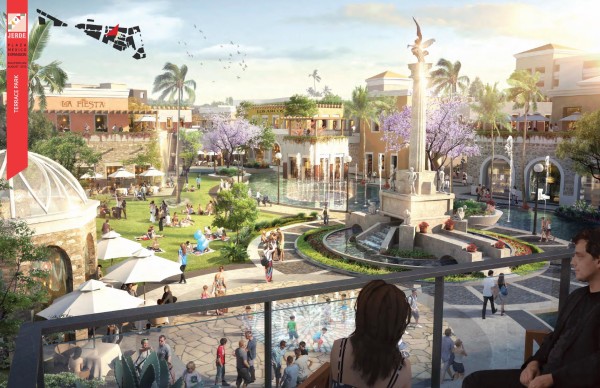 Plaza Mexico
The crowning achievement of M&D Properties is the Plaza Mexico. It is a 450,000 square-foot lifestyle shopping center in the city of Lynwood. Its strategy is to offer a quality shopping destination by replicating the familiarity and the small-town ambiance found in traditional Mexican pueblos. With its unique architectural designs – lavish fountains, lush landscaping, and open-air plazas – Plaza Mexico stands as the only property found in the United States of its magnitude, elegance, and uniqueness, specifically catering to the Latino population.
As the demands for the retail spaces in and around Plaza Mexico increase, expansion has been envisioned and M+D Properties and M&D Regional Center will be working together to materialize this vision. In addition to the retail spaces, it will add residential units to create a true lifestyle shopping center.
Vision
Maintain consistency in design and quality.
Create synergy of unique concept, distinctive designs and execution.
Continue to foster a sense of community awareness and pride by use of functional motifs from Mexico.
Establish a functional living and work environment.
Enable the experience of sights, sounds, and tastes of Mexico.
For more information, please visit www.plazamexico.com.
Phase 1 – Residential